THE 2030 AGENDA AND GERMANY'S SUSTAINABILITY STRATEGY
On 25 September 2015, the Member States of the United Nations adopted the 2030 Agenda at a special summit in New York with the objective of improving the living conditions of all people while at the same time protecting our planet. It was developed with the broad-based involvement of civil society and is a milestone in the recent history of the United Nations. The 2030 Agenda brings together the Millennium Development Goals adopted in 2000 and the environment and climate agenda (Rio Process). At the heart of the 2030 Agenda are the 17 Sustainable Development Goals (SDGs). THE OBJECTIVE OF THE 2030 AGENDA IS TO SHAPE WORLDWIDE DEVELOPMENT IN AN ENVIRONMENTALLY, ECONOMICALLY AND SOCIALLY SUSTAINABLE WAY. The ambitious global transformation programme of the 2030 Agenda seeks to offer future generations prospects for a dignified life. The aim is to reach the weakest and most vulnerable first ("leave no one behind").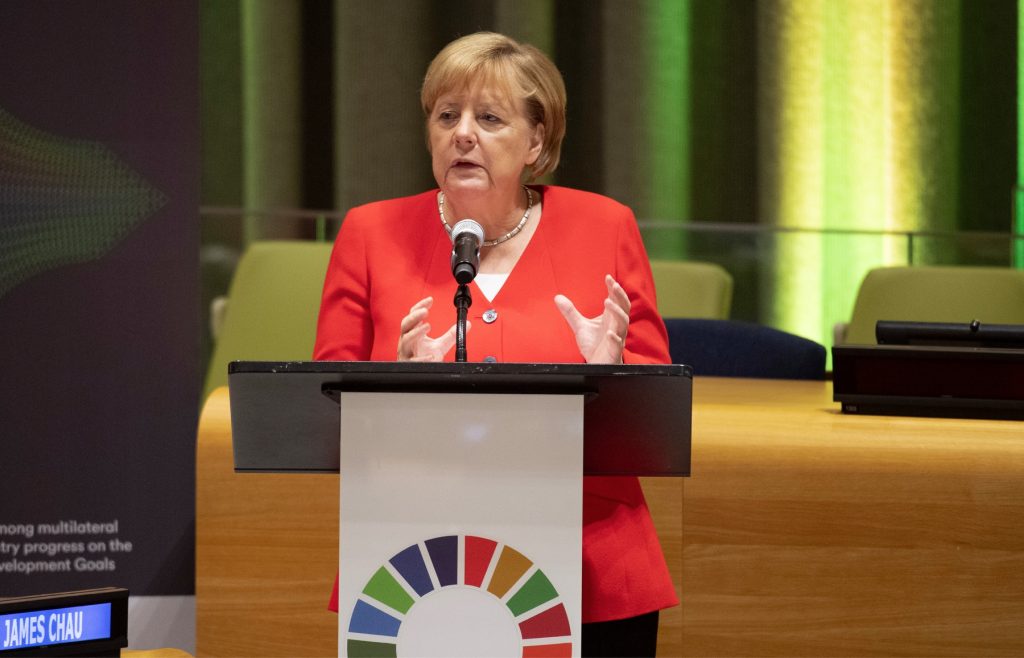 The SDGs are underpinned by the five core messages regarding PEOPLE, PLANET, PROSPERITY, PEACE AND PARTNERSHIP. These messages are intended to serve as guiding and groundbreaking principles and range from eradicating poverty and hunger to high-quality education and reducing inequality, as well as good governance and climate protection. The objectives are inseparably linked and go hand in hand with each other. GERMANY IS COMMITTED TO FINDING SUITABLE WAYS AND MEANS OF ACHIEVING THE AGENDA'S GOALS AT EUROPEAN LEVEL AND IN THE VARIOUS FORMATS OF INTERNATIONAL COOPERATION. The updated National Sustainable Development Strategy of 2017 (updated in 2018) provides an essential framework for the implementation of the 2030 Agenda in Germany. In the strategy, the Federal Government sets out, point by point, how the global sustainability goals are to be implemented in Germany. Sixty-three concrete goals were adopted to this end, which are based on the 17 global goals. "AT THE FEDERAL FOREIGN OFFICE, DIPLOMACY FOR SUSTAINABILITY IS ABOUT FINDING NEW PARTNERS AS WE PURSUE BOTH THE 2030 AGENDA AND GLOBAL SUSTAINABLE DEVELOPMENT. Particularly at a time when more and more peo- ple are again calling for national solutions, we must work to strengthen multilateral institutions. The only way for us to solve global problems is by working together." Heiko Maas, Federal Minister for Foreign Affairs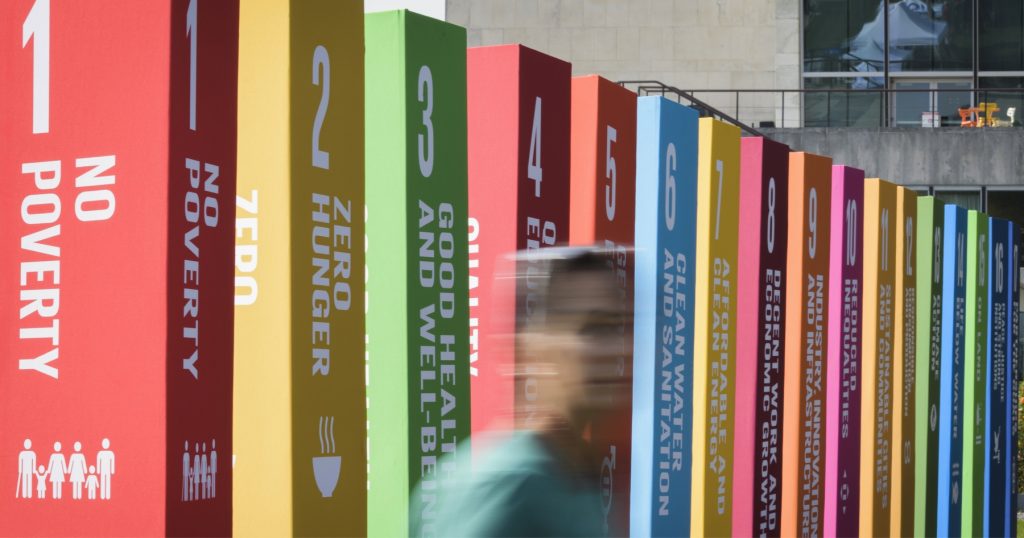 EXCERPTS FROM UN GENERAL ASSEMBLY RESOLUTION "TRANSFORMING OUR WORLD: THE 2030 AGENDA FOR SUSTAINABLE DEVELOPMENT" ADOPTED ON 25 SEPTEMBER 2015
All countries and all stakeholders, acting in collaborative partnership, will implement this plan. We are resolved to free the human race from the tyranny of poverty and want and to heal and secure our planet. We are determined to take the bold and transformative steps which are urgently needed to shift the world on to a sustainable and resilient path. AS WE EMBARK ON THIS COLLECTIVE JOURNEY, WE PLEDGE THAT NO ONE WILL BE LEFT BEHIND.
THE NEW AGENDA
We are announcing today 17 Sustainable Development Goals with 169 associated targets which are integrated and indivisible. Never before have world leaders pledged common action and endeavour across such a broad and universal policy agenda. WE ARE SETTING OUT TOGETHER ON THE PATH TOWARDS SUSTAINABLE DEVELOPMENT, DEVOTING OURSELVES COLLECTIVELY TO THE PURSUIT OF GLOBAL DEVELOPMENT AND OF "WIN-WIN" COOPERATION WHICH CAN BRING HUGE GAINS TO ALL COUNTRIES AND ALL PARTS OF THE WORLD.
MEANS OF IMPLEMENTATION
The scale and ambition of the new Agenda requires a revitalized Global Partnership to ensu- re its implementation. We fully commit to this. THIS PARTNERSHIP WILL WORK IN A SPIRIT OF GLOBAL SOLIDARITY, IN PARTICULAR SOLIDARITY WITH THE POOREST AND WITH PEOPLE IN VULNERABLE SITUATIONS.
GENDER-RESPONSIVE SMALL ARMS CONTROL
MORE EFFICIENT SMALL ARMS CONTROL THANKS TO GENDER EQUALITY – TOWARDS BULLET-PROOF INCLUSION
Small arms kill more than half a million people worldwide every year – many of whom are women. The availability of weapons magnifies structural and sexual violence and entrenches existing inequalities. Nevertheless, women and the topic of gender equality are rarely included in solutions. This has an impact on how effective such solutions are. Changing this situation is an aim of the transnational Gender Equality Network for Small Arms Control (GENSAC). Women – just like men – should be enabled to participate in all small arms control measures in order to achieve bullet-proof inclusion.
STUDIES SHOW THAT PEACE TALKS ACHIEVE BETTER RESULTS IF WOMEN ARE ACTIVELY INCLUDED AND THEIR CONCERNS ARE TAKEN INTO ACCOUNT. GENSAC also strives to make gender equality a key topic in all parts of small arms control in order to make this control as effective as possible. Germany co-founded GENSAC with the Af- rican Union, Ghana, Namibia and the multi- sector initiative, The Pathfinders, a group comprised of countries, the private sector and NGOs. In February 2020, the network met at the Federal Foreign Office in Berlin for its first high-level conference, which brought together experts of both genders from around the world. The focus was on three regions that are particularly plagued by small arms, namely the Western Balkans, Africa, Latin America and the Caribbean. Although the problems faced by these regions differ in nature, the participants were able to learn from each other's experiences.
GERMANY'S CONTRIBUTION TO THE WOMEN, PEACE AND SECURITY AGENDA AND THE 2030 AGENDA FOR SUSTAINABLE DEVELOPMENT
Germany regards peace, security and gender equality as indivisible. The German Government's Action Plan thus purposely joins up two goals of the 2030 Agenda for Sustainable Development, SDG 16 (peace, stability and security) and SDG 5 (gender equality). The German Government's efforts to achieve these two goals also contribute to the implementation of the Women, Peace and Security Agenda, which calls for the more active inclusion of women in security and peace policy decision-making and implementation, equal representation and more effective gender-sensitive measures to protect people from sexual violence.
The German Government promotes greater participation by women in stabilisation and peacekeeping, and has made this a priority of Germany's UN Security Council membership in 2019 and 2020.
SUSANNE BAUMANN, FEDERAL GOVERNMENT COMMISSIONER FOR DISARMAMENT AND ARMS CONTROL:
"WOMEN, WHO COMPRISE MORE THAN HALF THE POPULATION, HAVE THE RIGHT – JUST LIKE MEN – TO PARTICIPATE IN ARMS CONTROL."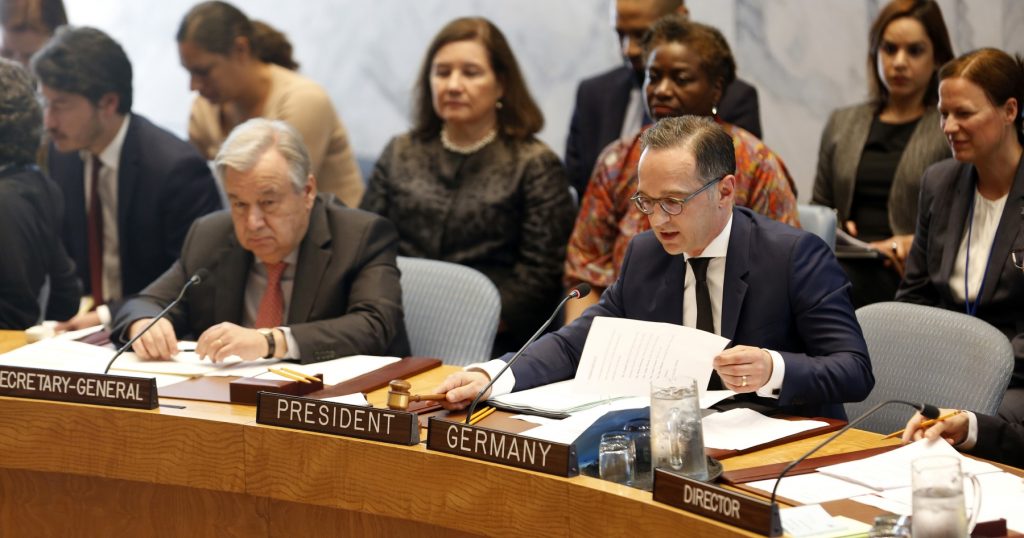 ACHIEVING SUSTAINABLE DEVELOPMENT THROUGH CLIMATE DIPLOMACY
The Paris Agreement adopted in December 2015 at the United Nations Climate Change Conference in Paris (COP21) can only be implemented successfully IF DEVELOPMENT, ECONOMIC, FINANCIAL, ENERGY AND TRANSPORT POLICIES ARE ALIGNED WITH CLIMATE-PROTECTION GOALS. As regards foreign policy, climate policy as defined under SDG 13 must be made a priority issue in bilateral and multilateral relations. The Federal Government wants to work with partners around the world on implementing the Paris Agreement and thus achieving the transformation to a climate-neutral economy. As a result of climate change, global warming is constantly rising towards the thresholds laid down in the Paris Agreement of limiting global warming to well below 2°C, and ideally 1.5°C, compared with pre-industrial levels. The impact can already be felt. RISING SEA LEVELS, MORE FREQUENT EXTREME WEATHER EVENTS AND THE GROWING RISK OF ENVIRONMENTAL DISASTERS ARE DEPRIVING PEOPLE OF THEIR LIVELIHOODS IN AFFECTED REGIONS TO AN EVER GREATER EXTENT. Climate change is therefore increasingly beco- ming a risk multiplier that threatens the stability of countries and societies worldwide. In response, the Federal Foreign Office has put the security-policy impact of climate change on the international agenda and made it a topic in the UN Security Council. In this way, Germany is also helping to implement SDG 17.
THE AIM OF THE INITIATIVE IS TO ENABLE THE SECURITY COUNCIL TO TAKE CONCRETE ACTION IN SITUATIONS WHERE THE IMPACT OF CLIMATE CHANGE EXACERBATES CONFLICTS, as the international community needs to take action in places where climate change poses a threat to people's livelihoods before conflicts break out or escalate. Early warning systems should play a key role here in the future.