HUMAN RIGHTS IN THE UNITED NATIONS
IN THE UNITED NATIONS, 193 STATES ARE WORKING TOGETHER AROUND THE WORLD TO MAINTAIN PEACE, HUMAN RIGHTS AND DEVELOPMENT. These three objectives are enshrined in Article 1 of the Charter of the United Nations of 1945. The Universal Declaration of Human Rights was adopted just three years later. To this day, this remains the foundation of human rights protec- tion at the international level. Together with the International Covenant on Civil and Political Rights and the International Covenant on Economic, Social and Cultural Rights of 1966, IT IS ALSO KNOWN AS THE INTERNATIONAL BILL OF HUMAN RIGHTS.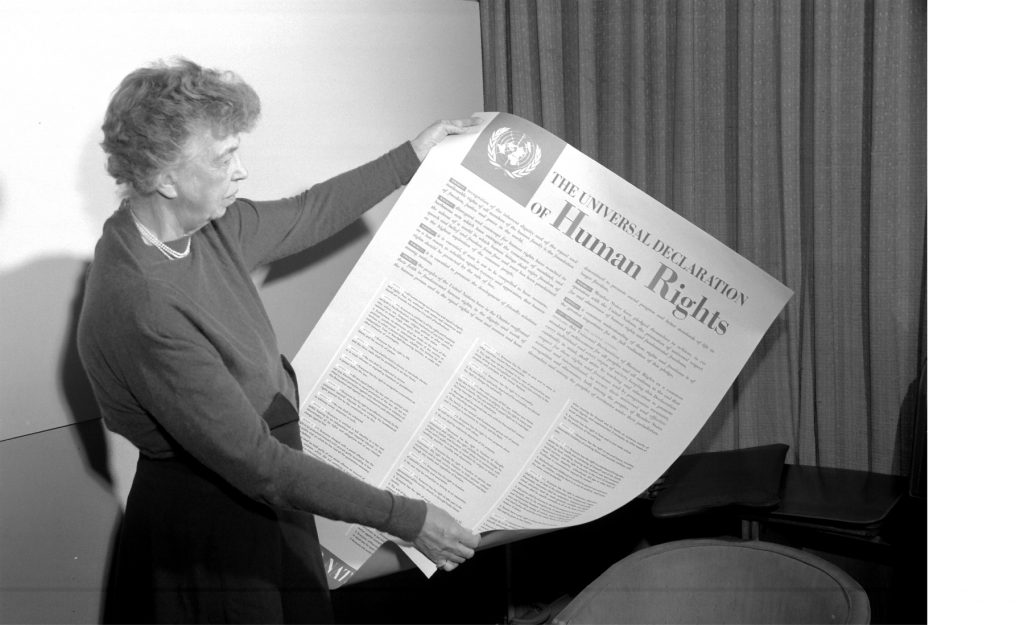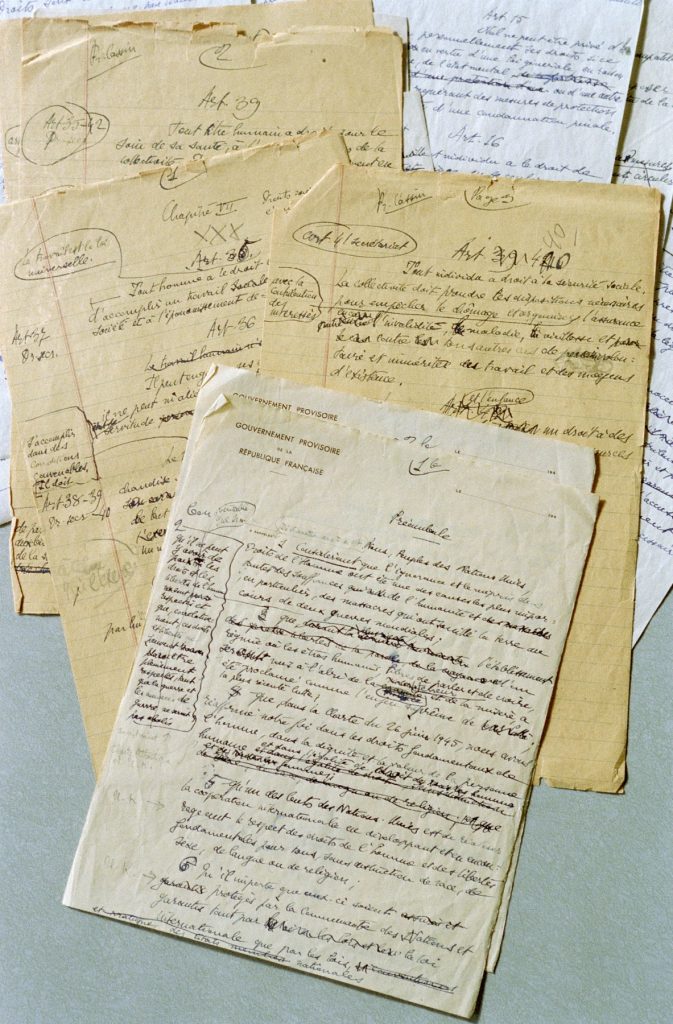 Human rights conventions adopted since then lay down in detail and binding form what steps states are obliged to take in order to protect hu- man rights. Among other things, states have rea- ched agreements on tackling racial discrimination and discrimination against women, on opposing torture and protecting the rights of children and persons with disabilities, as well as many other human rights issues. COMPLIANCE WITH THE MOST IMPORTANT HUMAN RIGHTS CONVENTIONS IS MONITORED BY INDEPENDENT COMMITTEES OF EXPERTS.
THE UNITED NATIONS HUMAN RIGHTS COUNCIL
Since 2006, the Human Rights Council, with its headquarters in Geneva, has been the most important intergovernmental body dedicated to the protection of human rights. IN THE COUNCIL, STATES AND CIVIL SOCIETY HOLD DISCUSSIONS TOGETHER ON HOW HUMAN RIGHTS CAN BE BETTER PROTECTED.
The Human Rights Council meets three times a year, addresses human rights violations and elaborates recommendations for the further development of international law in the field of human rights.
The Human Rights Council comprises 47 states from all regions of the world. Terms on the Human Rights Council run for three years, and one third of the seats come up for re-election each year. GERMANY IS CURRENTLY A MEMBER OF THE HUMAN RIGHTS COUNCIL FOR THE FOURTH TIME AND WILL REMAIN SO UNTIL THE END OF 2022.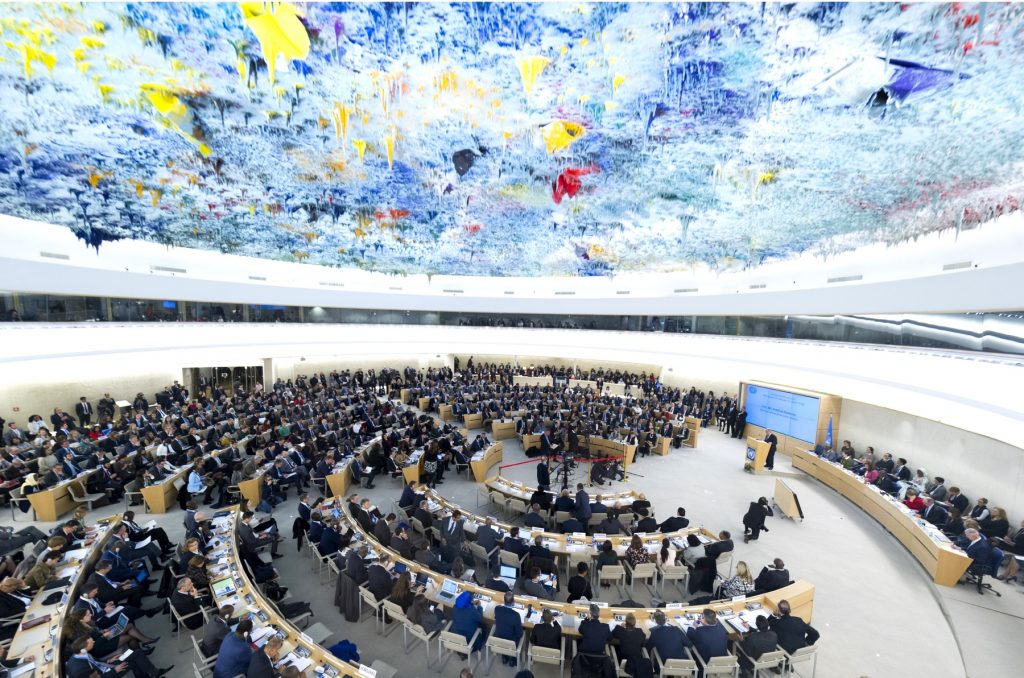 THE PURPOSES OF THE UNITED NATIONS ARE: 3. To achieve international cooperation in solving international problems of an economic, social, cultural, or humanitarian character, and in promoting and encouraging respect for human rights and for fundamental freedoms for all without distinction as to race, sex, language, or religion.
ARTICLE 1
UNIVERSAL DECLARATION OF HUMAN RIGHTS
ARTICLE 1
ALL HUMAN BEINGS ARE BORN FREE AND EQUAL IN DIGNITY AND RIGHTS. THEY ARE ENDOWED WITH REASON AND CONSCIENCE AND SHOULD ACT TOWARDS ONE ANOTHER IN A SPIRIT OF BROTHERHOOD.
ARTICLE 2
Everyone is entitled to all the rights and freedoms set forth in this Declaration, without distinction of any kind, such as race, colour, sex, language, religion, political or other opinion, national or social origin, property, birth or other status. Furthermore, no distinction shall be made on the basis of the political, jurisdictional or international status of the country or territory to which a person belongs, whether it be independent, trust, non-self-governing or under any other limitation of sovereignty.
INSTRUMENTS FOR THE PROTECTION OF HUMAN RIGHTS
All Member States of the United Nations undergo a periodic review process in the Human Rights Council. As part of this process, states report on developments that have taken place in the field of human rights over the past five years. THEY RECEIVE RECOMMENDATIONS FROM OTHER STATES AND CIVIL SOCIETY ON HOW THEY CAN BETTER PROTECT HUMAN RIGHTS IN THE FUTURE. THE HUMAN RIGHTS COUNCIL CAN ALSO INSTIGATE WHAT ARE KNOWN AS SPECIAL PROCEDURES THAT ADDRESS THE SITUATION IN A COUNTRY OR SPECIFIC HUMAN RIGHTS ISSUES. There are currently over 50 such special procedures. For example, the Human Rights Council has mandated a Commission of Inquiry on Syria, a Special Rapporteur on the Human Right to Safe Drinking Water and Sanitation, and an Independent Expert on protection against violence and discrimination based on sexual orientation and gender identity to issue regular reports on these issues. States must report on a regular basis to the independent committees of experts set up in accordance with the most important human rights conventions. Under certain conditions, affected individuals can also submit complaints about human rights violations to the Human Rights Council, thus triggering an international review.
The UN General Assembly in New York also addresses human rights issues in the Third Com- mittee. In addition, Germany is working to ensure that human rights issues play a greater role in the UN Security Council than they have to date as human rights violations are often an indicator of or even trigger violent conflicts.
GERMANY IN THE HUMAN RIGHTS COUNCIL
The protection of human rights is a cornerstone of German foreign policy. As a member of the Human Rights Council, Germany is committed to promoting the rights to water and sanitation and to protecting the victims of human trafficking, including through its own draft resolutions, and is working to ensure that civil society and independent national human rights institutions have a voice also at the international level. Moreover, Germany is addressing new challenges facing the protection of human rights. Germany takes care that restrictions in connection with combating the COVID-19 pandemic are not used as an excuse for extensive human rights violations. The impacts of climate change, further necessary progress in women's rights and the protection of privacy, also in the digital sphere and in the increasing use of artificial intelligence (AI), are among the issues that are at the forefront of these efforts.